The field of economics is expected to see substantial growth over the next decade due to the increase in available data across industries and the need for professionals with the appropriate training and skills to turn that data into actionable insights.
The evolution of the field brings an increase in opportunities for those with a graduate degree in economics. Below, we explore the most common industries that those with this advanced education work in, uncover some of the top job titles that these professionals hold, and offer advice on how to choose the master's in economics program that's right for you.
Economics Career Outlook
A graduate education can increase a professional's earning potential by 18 percent or higher across industries, and the field of economics is no different. As of 2021, economics professionals earned a median salary of $105,630 per year, while those with graduate degrees saw earnings up to $185,020 annually. 
A competitive salary isn't the only benefit of pursuing a career in economics, however. Organizations across industries now rely on economics professionals' insights, resulting in an anticipated 6 percent growth in job opportunities in economics by 2031.
As promising as these figures are, the Bureau of Labor Statistics (BLS) identifies that competition for jobs in economics has gotten more fierce over time. This competition is due, in large part, to the growing need for advanced skill sets and training that can only be obtained in a graduate economics program. For this reason, the BLS notes that most roles in this field require a master's degree or higher in economics.
---
Advance Your Career with a Master's in Economics
Combine theory with practice to prepare for a career contributing to social, economic, and environmental change.
---
5 Jobs For Those with a Master's in Economics
Here, we outline five of the most common job titles for professionals with a master's in economics.
1. Economist
Average Salary: $105,630 per year
According to Jun Ma, PhD, professor and director of the Master of Science in Economics program within Northeastern's College of Social Sciences and Humanities, an economist is among the most common job titles for those with an advanced degree in economics.
Economists are typically responsible for the following tasks: 
Gathering and analyzing data using statistical models
Evaluating and reporting on economic trends
Advising organizations based on collected insights
Providing recommendations and solutions to problems based on statistical data
With roles spanning the private sector, government agencies, international organizations, and more, these professionals are in high demand.
2. Data Scientist
Average Salary: $124,413 per year
Data scientists work with other business professionals to understand what goals need to be set—as well as how to reach them—using a thorough analysis of data. They're responsible for the following:
Gathering and analyzing unstructured data sets
Developing or designing data modeling processes, algorithms, predictive models, or statistical systems used to perform custom analysis
Using gathered data to help answer questions or guide partners in determining economic policies
Data scientists are instrumental in ensuring their organizations make informed decisions.
3. Professor of Economics
Average Salary: $88,699 per year
Economics professors apply their real-world experiences and skills to mold future generations of economists. Primarily, these educators cover topics covering a variety of economic principles, including:
Micro and macroeconomics
Statistical and econometric tools
Quantitative methods of data analysis
Academia is a very common path for those seeking a non-practical application of their economics training.
4. Senior Financial Analyst
Average Salary: $85,328 per year
Financial analysts help corporations make strategic investments and business decisions by evaluating the trends, demographics, and economic factors that might affect their finances. At the senior level, these professionals may:
Analyze an organization's accounting data
Evaluate risk
Demonstrate the projection of future long- and short-term growth
Present recommendations for ways to maintain, adjust, or otherwise improve a company's financial position
According to Ma, financial analysts may work in a commercial bank, mortgage bank, investment bank, or other similar organizations.
5. Data Analyst
Average Salary: $98,230 per year
Not to be confused with a data scientist, data analysts evaluate previously compiled data in order to identify trends, draw conclusions, and solve problems within an organization. These professionals may also:
Create and maintain data collection systems and tools
Interpret data sets using statistical models
Communicate with business teams about key findings
While these responsibilities may vary based on company and industry, the fundamental objective of a data analyst is to use data to solve problems and gain meaningful insights.
Top Sectors for Economics Professionals
Professionals who graduate from a master's in economics program obtain hands-on learning experience and an understanding of core tools and competencies that students with an undergraduate degree don't typically possess. As a result, these individuals have the benefit of applying their skill sets to work in a variety of different settings. 
Below, Ma explains the three main sectors that employ economics professionals.
1. The Private Sector
Many with a background in economics choose to take on roles as analysts, data scientists, or economists within a variety of fields. From banking to biotechnology, there are many private sector initiatives that require the statistical analysis skills of an economics professional. 
The types of companies economics professionals might work with include:
Consulting firms

Private banks

Pharmaceutical companies

Biotechnology companies

Startups

Tech companies

And more
Though all of these career paths provide excellent opportunities for graduates, Ma acknowledges that the technology sector has perhaps seen the largest rise in opportunities.
"Our graduates recently are in great demand in the tech and business industries because tech companies nowadays like to hire economics graduates to analyze data in data science positions," he says. "Many of our graduates have found positions doing just that at top companies."
2. Government Agencies
Economics professionals can apply their skills to a variety of careers within the public or governmental sectors. They may take on national, state, or local roles within government agencies. Ma identifies that other top organizations these individuals work in include the Federal Reserve Bank Service's Central Bank, the Bureau of Labor Statistics, and other think tanks focused on research and advocacy. 
3. International Organizations
There are also many global opportunities for those with an advanced economic background. Ma identifies that professionals may work with organizations such as the International Monetary Fund's World Bank or the United Nations, among others.
Pursuing a Master's in Economics
Obtaining a master's in economics is an excellent way to advance your career, increase your salary potential, and remain competitive within the industry. To get the most out of your education, however, it's important to select a program that best meets your educational and vocational goals.
Here are a few key aspects to consider when choosing a master's in economics.
1. Faculty Quality
The faculty at top programs like Northeastern's provide graduate students with more than just knowledge from a textbook; they bring real-world experience from the field into the classroom. 
With prior experience working in many of the positions students aspire to have, Northeastern's faculty can communicate industry trends, address cutting edge techniques, and discuss the most state-of-the-art economic theories defining the industry today. 
What's more, because these faculty come from a variety of positions across sectors, they can help students determine their future career paths and provide actionable insights about how to address real-world economic scenarios across industries.
2. Opportunities for Hands-on Learning
Ma identifies that Northeastern's experiential learning opportunities are one of the primary reasons students see so much success after graduation. These opportunities allow students to take the skills they've learned in the classroom and apply them hands-on within an organization in their industry of choice.
"We have classes that teach students the practical skills that will help them thrive in industry," Ma explains. "Once they learn those skills from class, they get a chance to practice them within a company or government agency." 
Ma further explains that Northeastern is committed to setting students up for success within the specific role, industry, or sector they wish to work in. As such, they have the flexibility to complete a co-op—a six-month, paid hands-on learning experience—in any organization they want. 
Keep in Mind: Co-ops also provide students with a chance to build their professional network and open doors to future employment opportunities. With 85 percent of all jobs today being filled through networking, this type of exposure to industry-leading professionals can go a long way in helping students stand out in a competitive job market.
3. Ability to Personalize Your Education
Alongside the chance to personalize your experiential learning, Northeastern's master's in economics is also designed to help students customize their courses to complement their unique aspirations.
"We design our program to provide students with a very general framework of economic and econometric models, but also have designed the program in such a way that we can tailor to every student's different interests and career paths," Ma says.
To do this, Northeastern offers unique tracks within the program, each of which provides extensive knowledge in a specific application of economics. "The tracks are established so that students will know what classes to take given their career of interest," Ma explains. Some of the most common include:
A qualitative analysis track
An academic track
A policy track that involves specialty areas such as health and financial economics
Alongside these more informal tracks, Northeastern's master's of economics program also offers a concentration in data science. 
Take the Next Step
Ready to embark on a career in economics? A master's degree from Northeastern can help set you on a path toward success. Learn more about this program, then get in touch with our enrollment coaches for personalized advice on applying, leveraging your degree in the industry, and more.
Explore our program page to learn about all that Northeastern's master's in economics has to offer. 
---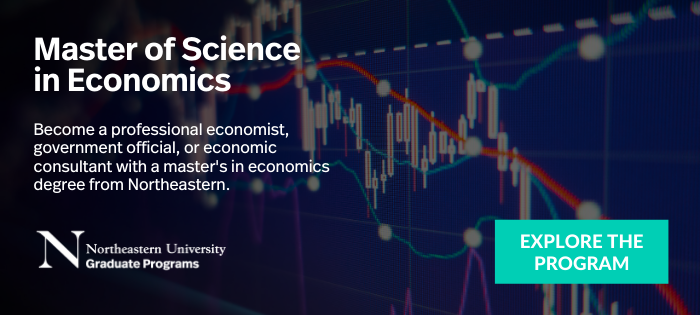 ---