There are many reasons economics professionals may consider continuing their education with a master's degree. Increased salary potential, opportunities for career advancement, and the chance to hone complex skill sets are just a few of the dozens of impetuses a professional might have for enrolling in a master's in economics program.
While future career impact is often one of the main driving forces for enrollment, it is only one of many benefits of pursuing a master's in economics at Northeastern. Below, we explore the top five reasons to pursue this degree and offer advice on how you can take the first step in enrolling today.
5 Benefits of a Master's in Economics from Northeastern
1. The Chance to Hone Key Practical and "Soft" Skills
One of the most significant benefits of graduate-level education is the rare opportunity to develop and refine the crucial skills required of high-level economics professionals. 
From analytics and statistical modeling to teamwork and collaboration, Northeastern has designed its program to address these key capabilities through strategic projects, courses, and hands-on learning opportunities. As such, students have the unique chance to practice everything they need to be successful prior to entering or advancing in the workforce.
"Undergraduate students typically have a very good understanding of the different issues in economics disciplines," says Jun Ma, PhD, professor, and director of the Master of Science in Economics program within Northeastern's College of Social Sciences and Humanities. "But when you're in a graduate program, you start to learn the tools that are most relevant to the practice…you really get to try things and learn the approaches that mirror the way people actually work in the field." 
Ma identifies that some of the most important practical and soft skills economists need to excel include:
Mathematics

Econometrics techniques

Quantitative techniques

Communication

(both verbal and nonverbal)

Teamwork and

collaboration

Problem-solving

Presentation abilities
"It's a quite demanding discipline," Ma says. "To be successful, you have to have a lot of abilities, and we make sure that you graduate with everything you need."
---
Advance Your Career with a Master's in Economics
Combine theory with practice to prepare for a career contributing to social, economic, and environmental change.
---
2. Opportunities for Hands-On Learning
Experiential learning is a core component of all Northeastern's graduate and undergraduate programs, and the master's in economics is no different. Students in this program apply the skills they learn in the classroom hands-on within real-world organizations across a variety of sectors, ranging from private industry to government agencies to think tanks.
"We encourage students to have hands-on experiences throughout the master's program," Ma says. "We have all these classes that teach them the practical skills to help them thrive in the industry, and once they learn those skills in class they get the chance to practice them during their co-op program."
Alongside this chance to actively participate in the economical processes for organizations, co-ops allow students to gain unparalleled exposure to some of the top organizations in the world, and actively set themselves up for success post-graduation.
During experiential learning projects, students also get to try out different economics roles or specializations, allowing them to figure out what aspect of the field they like the best and tailor their future courses to help prepare them for that unique position after graduation.
Learn More: What Can You Do With a Master's in Economics?
3. Exposure to World-Class Faculty
Real-world experience in Northeastern's master's in economics doesn't end with a co-op; the faculty in this program are hand-selected for their ability to bring expert experience, insights, and techniques from the industry directly into the classroom.
"We have an excellent group of faculty in the master's in economics program," Ma says. "That's a big part of what sets Northeastern apart."
These individuals come from a variety of professional backgrounds and can offer extensive guidance to students as they determine the direction of their economics careers. Simultaneously, they can provide insight on the latest trends and technologies in the industry today.
"These faculty are very research active," Ma says, noting that they expose students to "cutting edge techniques, state-of-the-art economics theories and models, and the latest quantitative methods to analyze data" that they otherwise wouldn't have access to until they graduated into the field.
This kind of exposure gives students a competitive edge over other candidates when applying for roles—yet another significant benefit of this program.
4. Access to an Interdisciplinary and Specialized Education
Professionals who attend graduate school at Northeastern have the rare benefit of exploring both the theoretical subject matter related to their degree and the various applications of that degree across industries. 
In Northeastern's master's in economics program, for example, students can customize their education to prepare for the unique career they wish to have after graduation.
"We design our program to provide students with a very general framework of economic models…but we also design [it] in such a way that we can tailor to every student's different interests and career paths," Ma says.
This customization is accomplished through designated, informal tracks, which students can follow as a means of specializing in a specific sector. Different from formal concentrations, these tracks simply help guide students through course selection and experiential learning options, and ensure the students remain aligned with their personal area of interest throughout their studies.
"Tracks are established so that students will know what classes to take given their career interests," Ma says. "If someone wants to work in the healthcare industry in the future, for example, they might want to take classes that will allow them to specialize in the area of health economics." 
Alongside health economics, some most common tracks include a qualitative analysis track, an academic track, and a policy track that involves specialty areas like financial economics. These tracks ensure the master's in economics program is interdisciplinary, as students can take courses offered outside of the economics program in order to tailor their career path.
Formal concentrations are also available for those who want to specialize in a well-defined and specific aspect of the larger economics discipline. Currently, Northeastern offers a concentration in data science, which "aims to give students a really big leg up if their goal is to find a data science position in the tech industry," Ma says. "In that concentration, students are able to take the same core graduate-level classes as those in the data science program at the university. [As a result], they can combine data analytics training with economics knowledge in order to analyze big data and come up with truly insightful, helpful policies and reports that can be really valuable to any organization."
5. A Competitive Edge in the Job Market
The career outlook for economics jobs is quite positive, according to data today. Alongside a competitive average salary of $105,020 per year, professionals can also expect to see a 14 percent growth in available opportunities for trained professionals in economics by 2029.
This positive career outlook has not reduced the competitiveness of the job market in this sector, however. In fact, if anything, it has made the fight for top roles in the economics industry all the more difficult.
This is because organizations today are expecting more from their candidates than ever before.  In addition to basic economics practical skills, organizations are now looking for team members who have interpersonal abilities, tactical training, real-world experience, and time spent working with cutting-edge technology. According to the Bureau of Labor Statistics, organizations are now requiring applicants to hold at least a master's degree to be considered for these positions.
While gaining this unique combination of qualifications may sound daunting to some professionals, students in Northeastern's master's in economics program graduate with each of these boxes already checked. They walk away with not only a unique set of experiences, skills, and knowledge, but also with a supportive network of industry-leading faculty, contacts at top companies in the field, and a master's degree as proof of their abilities training. 
Take the Next Step
Whether you're looking to change careers, advance in your company, or land a competitive role at a top organization, a master's in economics from Northeastern can set you up for success. Learn more about all this program has to offer by exploring the curriculum, faculty, experiential learning opportunities, and more on the master's in economics program page, then get in touch with our enrollment coaches for personalized advice about applying.
---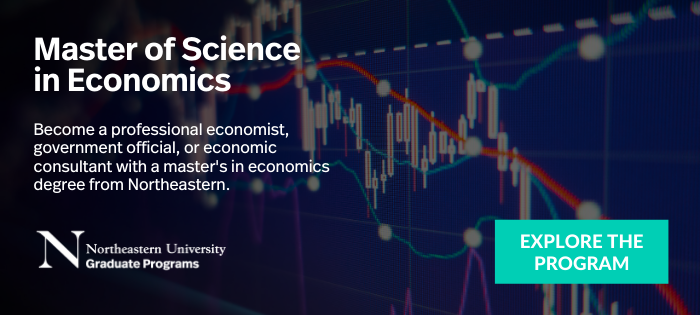 ---