The medical field has come a long way in addressing how various diseases are both treated and prevented. From vaccines that significantly reduce the rates of seasonal flu infections to drugs that battle the growth of cancer cells to medicines that treat the common headache, these kinds of advancements have had a dramatic impact on the health and wellbeing of communities worldwide.
So, how are drugs discovered? How are they tested for safety? And how can we be sure that they perform their intended functions without causing harmful side effects?
These questions and more are at the heart of a pharmaceutical scientist's work.
What is a pharmaceutical scientist?
Pharmaceutical science is a field that focuses on the design and synthesis of potential drugs, as well as their evaluation in biological systems and disease models as a means of profiling their preclinical safety, efficacy, dynamics, and metabolism.
A pharmaceutical scientist, then, is a professional who performs research to drive drug discovery, development, and testing. These professionals are typically bench-level scientists who are charged with executing experiments as part of a team-based research project aimed at introducing new drugs to the marketplace. Pharmaceutical scientists often work for pharmaceutical or biotechnology companies with a focus on therapeutics invention.
Analytically-minded individuals are naturally drawn to this field given the inquisitive nature of the work. Additionally, working to create potentially life-saving therapies and improve the overall health of individuals can be highly fulfilling.
"There's a humanitarian aspect to doing this and helping people in trying to combat disease and understand how diseases work," says David Janero, director of Northeastern's pharmaceutical sciences graduate programs.
Even further, pharmaceutical scientists also typically enjoy job security, competitive pay, and a positive career outlook. According to data from PayScale, these professionals earn an average of $80,974 per year.
---
Advance Your Career with a Master's in Pharmaceutical Science
Learn how to transform your career in an industry that's transforming the world.
---
"In the Boston biomedical ecosystem, companies are avidly looking for people to develop new drugs and get them to the marketplace as efficiently as possible in a very competitive commercial context. So the demand for skilled pharmaceutical scientists is very high, and I forecast that it will remain so," Janero says.
Pharmaceutical Scientist vs. Pharmacist
Since most people interact with pharmacists from time to time when they need a prescription, it's not surprising that this is often the first title that comes to mind when exploring the pharmaceutical industry. It's important to note, however, that the role of a pharmaceutical scientist is different than that of a pharmacist. 
Pharmacists prepare and dispense medications, monitor their use, and collaborate with other healthcare providers to treat patients. They typically work in pharmacy and hospital settings and are directly involved in patient care.
Pharmaceutical scientists, on the other hand, are involved in the process of discovering and testing new drugs. Their work is driven by research and, as such, they typically work in a laboratory environment. 
The path toward each of these careers is also distinct. Pharmacists must complete a Doctor of Pharmacy (PharmD) program and pass the North American Pharmacist Licensure Examination (NAPLEX) in order to obtain licensure and practice in the U.S. To become a pharmaceutical scientist, on the other hand, candidates must earn a bachelor's or master's degree in pharmaceutical science or a related field. Some pharmaceutical scientists may also decide to pursue a PhD. 
Learn more: What Can You Do With a Master's in Pharmacy
What does a pharmaceutical scientist do?
Pharmaceutical scientists perform a variety of tasks on a day-to-day basis to support research for discovering new drugs. This work often takes place in a laboratory setting and is largely focused on experimentation.
These professionals are often employed by pharmaceutical and biotechnology companies, but there are also employment opportunities in contract research organizations (CROs), academic institutions, and manufacturing facilities. They may also function as consultants to businesses and government agencies by advising on issues related to the pharmaceutical development process.
Below is a closer look at the common roles and responsibilities of pharmaceutical scientists. 
Roles and Responsibilities
According to Janero, "the principal focus [of most pharmaceutical scientists] would be on wet-lab research, looking at how potential drugs work and how they might be developed for clinical use."
Some of the specific tasks involved in the role include:
Collecting and analyzing data

Collaborating with interdisciplinary team members

Testing and optimizing compounds for safety and efficacy

Running experiments to determine how a drug functions
Janero also points out that the specific responsibilities of a pharmaceutical scientist may vary depending on their level of experience and educational background:
"Master's-level [professionals] tend to be the front line at the bench, and they're the ones who are doing the nuts and bolts of the experimentation… Doctoral-level [professionals] would tend to be project leaders, group leaders, laboratory managers, [and] principal investigators. In terms of the usual vertical organization of the corporate world, the master's-level people have the main responsibility of doing the experimentation in the lab." 
Becoming a Pharmaceutical Scientist
Pharmaceutical science is a promising career for those with an innate spirit of inquiry and the desire to make an impact on the lives of others. Although pharmaceutical scientists don't interact with patients directly, their work in the lab has great potential to improve the health and quality of life of people facing a myriad of diseases and ailments.
If this type of work sounds rewarding to you, it might be time to consider your path toward breaking into the pharmaceutical industry. One of the best ways to prepare yourself to enter the competitive marketplace is to pursue an education in pharmaceutical science. 
Although it is possible to earn this job title with just a bachelor's degree, earning a master's degree in pharmaceutical science—or a related field such as pharmacology, medicinal chemistry, or biomedical science—is a great opportunity to impress future employers and demonstrate advanced knowledge in key areas. As mentioned by Janero, earning a master's degree can also be a stepping stone towards a PhD in pharmaceutical science, which can come with greater job responsibilities and career progression. 
If you're interested in starting an impactful career as a pharmaceutical scientist, advancing your education can be the first step toward breaking into the industry and making a difference in the lives of others.
For more information about Northeastern's master's in pharmaceutical science, explore our program page.
---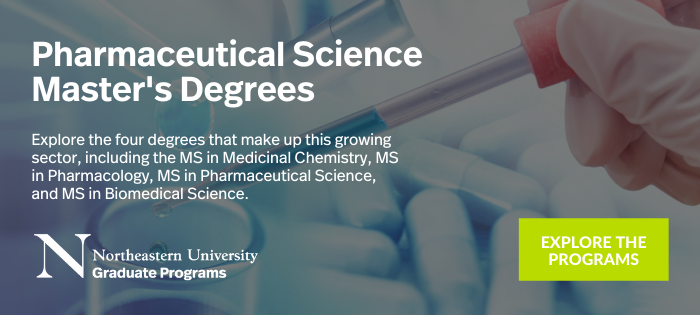 ---