While emotional health concerns have gained visibility in recent years, many people still struggle to find the support they need in their daily lives. According to the Anxiety and Depression Association of America, an estimated 4.1 million adolescents aged 12 to 17 in the United States had at least one major depressive episode in 2022. As a result, these current challenges in providing the right emotional care for individuals with emotional disorders are promising for young professionals hoping to become a mental health professional in the coming years.
If you are considering a career as a mental health professional, it can be exciting (and potentially overwhelming) to learn of the many job titles and career paths available to pursue. While the wide variety of jobs increases your chances of aligning your career goals and interests, understanding the differences between counselors and therapists can make choosing the "right" path a daunting task. 
Three of the most common job titles in the mental health industry are counselor, therapist, and psychologist. But what is the difference between these job titles? Are counselors, therapists, and psychologists really that different from one another, or are they more similar than different?
While there is overlap between these three career options, there are specific differences that you should understand before embarking on a career in the field. Here, we explore those differences. 
---
Ready to Make a Difference?
Download our free Counseling Psychology Career Guide to learn how.
---
What Is a Counselor?
The term counselor is used to broadly refer to a professional trained in the fields of psychology, counseling, social work, or a range of medical fields such as nursing. Mental health counselors, specifically, are those professionals working in a mental health capacity. 
Mental health counselors perform many functions and responsibilities. Their duties include conducting patient evaluations, providing educational resources around mental health conditions, and making recommendations that the client or patient can use to address mental health issues.
Often, mental health counselors will specialize in addressing a particular issue, such as substance abuse, sexual abuse, marriage and relationships, or family counseling, among others.
There are various types of counselors; here are some common job titles you can pursue in this field:
Licensed Mental Health Counselor (LMHC)
Licensed Professional Counselor (LPC)
Substance Abuse Counselor
What Is a Therapist?
A therapist is an individual that has been professionally trained to provide some form of therapy to a patient or client that addresses either a mental or physical disorder.
Examples of the types of therapy used in the context of physical medicine can include physical therapists and occupational therapists. In the context of mental health, the terms mental health therapist and psychotherapist are common.
As with counselors, therapists will often specialize in addressing particular client issues, such as marriage and family issues, substance abuse, etc. There are various types of therapists; here are some common job titles you can pursue in this field:
Counseling Therapist

Family Therapist

Rehabilitation Psychology Therapist

The Difference Between Therapists and Counselors
If the two definitions above sound very similar, it's because they are. Mental health counselors and therapists occupy the same professional space, treating the same issues within the same patient populations. Even within the industry, you can find the terms used interchangeably in some contexts.
However, here are some of the key differences between counselors and therapists you should keep in mind when choosing which career is right for you.
1. Treatment Plans
Perhaps the biggest difference between the role of a counselor and therapist is their approaches to treatment. As a practice, counseling services often address specific problems, emotional challenges, or behavioral struggles in a patient's life in a very practical way.
A licensed counselor working with a patient who suffers from anxiety might, for example, provide the patient with different therapeutic practices that they can use to ward off a pending panic attack. Or they might give a patient with alcoholism a set series of steps to follow when they feel a craving coming on. In this regard, there is a certain problem-solving approach inherent in counseling.
Therapists, however, take a slightly different approach to mental health treatment. They work to help their patients address similar issues, and often provide the same advice that counselors might. However, a key difference is that therapists often seek to go deeper by helping the patient understand the how and why behind a challenge. For example:
What scenarios tend to bring on addictive issues and why?
What situations are more likely to trigger a panic attack and why?
What is the root of these issues?
Therapists seek to identify the source of these issues through a combination of talk therapy and other frameworks.
As such, counseling is often (though not always) a short-term approach, arming the patient with tools they can put into action immediately to begin living a more healthy life. Therapy, on the other hand, is often a longer-term process that can last months or even years as the therapist and client seek out the root of the issues being addressed to make lasting change.
It is important to note that despite these differences in treatment, however, counselors and therapists will often borrow from each other's playbook.
2. Education
While the required education levels for these various positions overlap, there are some counseling certifications that don't require advanced degrees. For example, some states certify addictions counselors with an associate degree, or a combination of college credits, professional seminars, and years of professional experience working in addiction. However, if you hope to become a licensed mental health counselor or own a private practice, you must earn a master's degree to gain licensure.
According to our analysis of job postings data, 71 percent of advertised LMHC jobs require at least a master's degree. If you hope to become a master's-level counselor, it's recommended that you hold a Master of Science in Counseling Psychology. However, there are a few additional options available to you if you are interested in alternative paths.
Therapists also need to earn at least a master's degree through a psychology, social work, or counseling program. During this graduate program, students choose a field of specialty while completing their degree, including:
Addiction
Family Issues
Couple Issues
Eating Disorders
According to our analysis of job postings data, 68 percent of advertised therapist jobs require at least a master's degree in one of these programs. For some, this career path can be enticing for those who are interested in having more control over what they learn in the classroom, but there are additional differences to consider before making a final decision.
3. Licensure
Licensure is an important factor in any career in healthcare. For example, master's-level counselors are expected to gain licensure if they hope to legally practice in the state they work in. Some of these common licenses include:
Licenced Mental Health Counselors (LHMCs)
Licensed Professional Counselors (LPCs)
Licensed Clinical Social Workers (LCSWs)
To qualify for your license, you'll need to complete a certain amount of clinical work, and the exact amount often depends on the state you hope to work in as well as the license you are applying for. For example, in Massachusetts, at least 3,360 hours of mental health counseling over a period ranging between two and eight years need to be completed to gain licensure.
Therapists are also required to complete an extensive level of training that focuses on developing a wide range of clinical skills needed to properly address patients' needs. This is done through professional experience supervised by a licensed therapist.
Depending on the type of therapy you hope to work in, here are a few examples of licenses you may want to obtain:
Licensed Marital and Family Therapist (LMFT)
Licensed clinical social workers (LCSWs)
The supervision period for these licenses largely depends on the state in which you hope to gain licensure, but this can range anywhere from 1,000 to 4,000 hands-on hours.
While the licensing requirements may create two different timelines for these professions, it is important to note that both a licensed counselor and therapist must pass a comprehensive licensing exam in order to legally practice.
4. Salary
Salary is a common factor in the decision-making process when it comes to choosing a future career path. This is particularly important when considering the salary discrepancy between therapists and licensed mental health counselors.
According to our analysis of job posting data, the median salary of therapists is $62,300 per year. On the other hand, LMHCs can expect a median annual salary of $83,300. Despite this salary difference, it's important to note that the same report shows significant growth in the advertised wage trend of each job title. Therefore, these career paths may offer different median salaries, but both provide stable growth in annual earnings over time.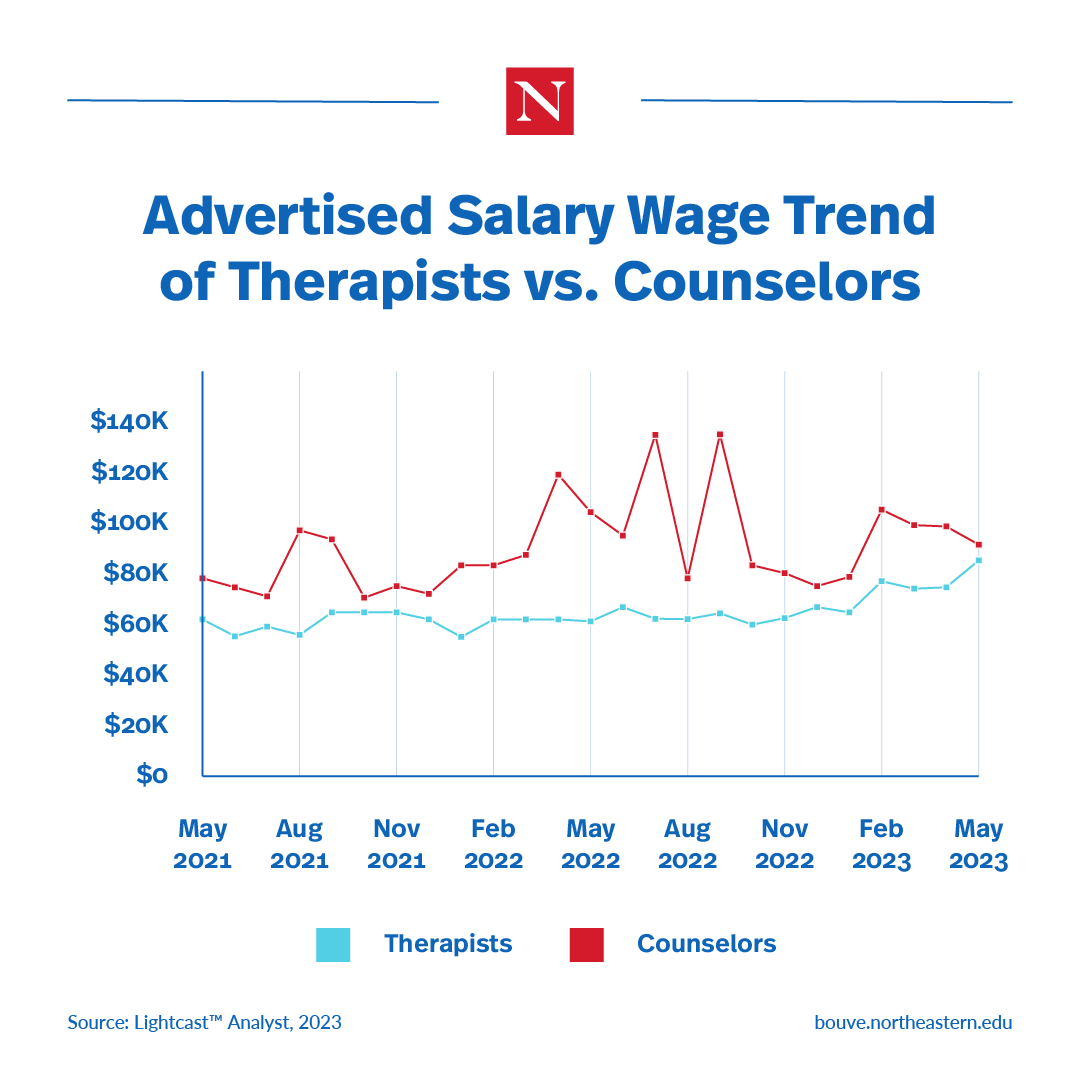 5. Employment Opportunities
Every career path has different levels of employment opportunity. The good news is that both therapists and counselors can expect steady growth in unique job posting trends. According to our analysis of job posting data, therapists have seen an 11 percent increase in unique job postings over the past two years. Licensed mental health counselors experienced a 26 percent increase from April 2021 to April 2023.
This can be incredibly encouraging for anyone interested in going into the fields, but it's also important to consider the states with the most job openings for each job title. For example, according to our job postings report the top five states that are hiring therapists are:
California
Texas
Indiana
Illinois
Florida
In contrast, the top states that are currently hiring LMHC include:
Massachusetts
Florida
New York
California
Washington
While you may have already chosen what state you hope to work in, this information can be incredibly valuable when thinking about what career path fits your professional needs.
What Is a Psychologist?
Another common job title within mental health counseling is that of a psychologist. Whereas therapists and counselors hold similar responsibilities, the difference is more pronounced for psychologists and the mental health services they provide.
A psychologist is similar to mental health counselors and therapists in that they also work to improve their patients' mental and emotional health. The techniques and frameworks that they use tend to differ, however. For example, while both counselors and therapists use various therapeutic approaches, psychologists generally draw on one or more theories of psychotherapy.
Some forms of psychotherapy include:
Psychoanalysis and psychodynamic: Focuses on changing problematic behaviors, feelings, and thoughts by discovering their unconscious motivations
Behavioral: Concentrates on learning's role in developing behaviors and habits
Cognitive therapy: Emphasizes what people think rather than what they do
Humanistic: Highlights people's capacity to make rational choices and reach their maximum potential
These types of psychotherapy tend to play a bigger role in licensed psychologists' treatment plans.

Additionally, psychologists are likely to deal with more complex issues than counselors. This is largely due to the fact that psychologists work with patients with severe mental health disorders, such as clinical depression, borderline personality disorder, and bipolar disorder. With this in mind, becoming a counseling psychologist will typically require a higher level of education, such as earning a PhD in Counseling Psychology. In fact, according to our analysis of job posting data only 17 percent of psychologist job postings require a master's degree, while 59 percent require a PhD.
In addition to the type of degree, psychologists also have different licensing requirements. Much like certain counselors and most therapists, psychologists are required to work under licensed supervision for at least one year. This supervised experience tends to be longer than what is expected of counselors and therapists. These additional hours on top of the additional training and education makes becoming a psychologist a more time-consuming career path.
However, this additional work in both education and licensure is rewarded financially. According to our analysis of job posting data, the median annual salary of psychologists is $104,300. Not only that, psychologists have seen a substantial increase in unique job postings of over 40 percent since April 2021. As a result, it is important to consider all of these factors before making a final decision.
Choosing The Right Career For Your Future
If you're considering entering the mental health field, it's important to understand the various available job functions so you can choose a career path that aligns with your interests and goals. While there are many different variations of the titles discussed above, the most common will be counselor, therapist, and psychologist. Though these are related in many ways, the differences are also significant and can substantially change the trajectory of your career. Pursuing a degree in counseling psychology is one way you can ensure you are ready for whatever path you choose.
Jumpstart your career today by learning more about the skills and experience needed to succeed in counseling psychology.